The new Meizu 16S probably one of the best higher devices out there this phone is loaded with tons of new features accompanied by a very gorgeous design. Meizu 16S is designed in a way that it really provides a pretty comfortable grip.
I have to say that the Meizu 16S offers you everything that you can expect from a $470 smartphone first of all. when it comes to its design the phone is extremely slim making. Meizu 16S very comfortable to hold you will find a glass back with curved edges on the sites there's a gradient looking finish with a reflective appearance so overall there's a prominent design over here seen on many phones recently.
Specific features Meizu 16S
There's a dual camera setup which is arranged vertically the set up is accompanied by a flash there's no fingerprint sensor here, as the phone has an in display fingerprint scanner. So this is all about the back of the device over the bottom the phone comes with a USB type C. port together with speaker grilles and a sim tray. Unfortunately, no headphone Jack which could be deal breaking from many.
Display
The phone comes with a 6.2 inch super analog display with the ability to produce pretty punch your colors the vessels are slimmer now with the bottom she measuring 4.2 millimeters.
The phone doesn't compromise with basic features like NFC providing a convenient way of payment. The phone comes with extremely slim bezels and it uses CO F. bonding technique for sliver bottom check. So overall the display of the device is really pretty no complaints in this department.
The hardware of Meizu 16S
when it comes to the hardware the phone is really powerful Meizu 16S comes with a Snapdragon 855 processor paired with 6 gigabytes or 8 gigabytes of ram and 128 gigabytes or 256 gigabytes of storage. The phone comes with me since hyper gaming technology for smooth and lag-free mobile gaming.
Battery
It also has full-screen gestures that come under flyme OS paired with android pie. As you can see there's a sliding bar over here for using smooth gestures the device has a major upgrading its bigger battery capacity it packs a satisfying 3600 mAh battery inside.
In addition, the phone also comes with support for fast charging at 24W. So overall in terms of hardware you are getting snapdragon 855 up to 8 gigabytes of ram 256 gigabytes of storage a massive 3600 mAh battery 24W charging android pie and the latest version of flyme OS.
Camera Meizu 16S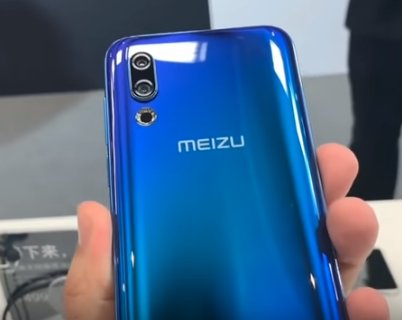 In addition to it, you are getting beautiful design stereo speakers Bluetooth 5.0 and more. The phone has dual rear cameras placed vertically on the top left corner the primary lens is a 48 megapixel Sony imx 586 sensor with an F. 1.7 aperture. While the second lens comes with a 20 megapixel Sony imx 350 sensor.
You will get a bunch of camera features over here like dual super night scene portrait okay mode, and an I saw recognition other than that the phone can take crystal clear shots together with 2X. lossless is due.
so overall this phone seems to be a great package what are your opinions will it be a great competitor to the upcoming 1 plus 7 right you're thinking in the comment section below.
Available choicesother details and description
The Meizu 16S comes in 3 colors and it looks gorgeous in all of them. This phone starts at $475 only you can check out now. For me, this is the perfect smartphone under $500 here's the white color variants which look as good as like the blue one.
Thank you for reading, if you have any queries then comment below we are happy to replying you, also comment your opinion about this Meizu 16S.