What's up guys so this is the new red magic 3 another gaming phone by Nubia the company.
You may hear about this phone is something special and it packs a bunch of features with a very sporting looking design. Whenever you look at this Nubia Red Magic 3 you will get that gaming feel just look out those V-shaped antenna lines and that RGB strip capable of flashing plenty of colors.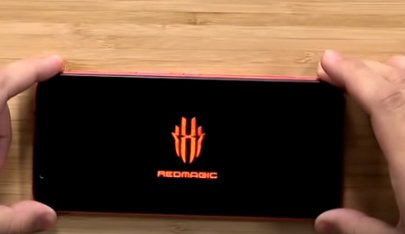 Nubia Red Magic 3
Inside those V shape lines, you will find a very fine mesh finish that makes it more gorgeous the camera layout is now more interesting and now it is positioned much better than ever. The overall design of the back is slightly curvy for a comfortable grip while gaming.
Designing of Nubia Red Magic 3
So overall we have no complaints regarding its design it looks like a monster with such an aggressive appearance. Also the fingerprints positioning is good with a very interesting shape and comfortable to reach.
On the front is a 6.65 inch full HD super analog display with a snappy 90-hertz refresh rate that is amazing everything feels quite salute in
Nubia Red Magic 3. Thanks to a higher refresh rate the display is looking really vibrant thanks to an animal LED panel gaming in this phone will be extremely impressive.
There's no sign of glass at the back it is totally made of metal making it a sturdy gaming phone Nubia Red Magic 3. We are quite impressed with its back what you think let us know in comments.
Comfort Extra Gaming Button
You will find 2 shoulder buttons on the top of the device other than that the phone has a dedicated gaming mode button on the right edge you can also use the fingerprint sensor as a dedicated shoulder button.
The phone provides a comfortable feel in hands however the volume rockers are positioned slightly lower making it quite hard to reach. This is still very good. So as you can see the bezels of this phone are quite figure just like red Mars phone that we have seen earlier.
Samsung Customer Care Number 24×7
The refresh rate of the display is adjustable it means you can change it from a 90 hurts to 60 hertz however there is no obvious change.
Best Processor Ever Nubia Red Magic 3
Being a gaming phone the phone features a Snapdragon 855 processor with up to 12 gigabytes of ram.
There are dual stereo speakers on the front so you will not face any problem with gaming there's a whopping 5000 mAh battery inside with 27w fast charging.
The phone also comes with a DC dimming feature for preventing straining your eyes even after hours of Gameplay.
Camera Features
The phone features a single 48 megapixel I am ex 586 camera at the back and comes with 8K. recording as well as the world's first 1000 920 FPS Super slow-mo recording.
The phone also packs a cooling fan inside which is the first time on any smartphone the fan keeps the temperature low while intense gaming other than that.
For audio, you have a dedicated 3.5 millimeters headphone Jack as well as 3D surround speakers. Thank you for reading.