Steam screenshot folder yes if you don't know how you can use and how to access this folder then welcome here. The World's best and most of people or gamer using Steam gaming platforms right now. Steam's offers to people biggest range of game and Providing download option for new games.
Not only that Many of time Before releasing new game given to try the trial version. One more thing you have to know before discourse steam screenshot folder.
How Important of steam screenshot folder
If you are an online gamer then you have to know how much important to take a screenshot when action happening on your screen in the game. Many cases this steam screenshot folder can be too helpful and useful. But this screenshot mostly uses to make rank or record of game, Gathering information, Bugs and etc.
Read More ; Dark Souls 3 Bosses Full Guide 2019
Where the place of steam screenshot folder?
You can just Press single key F12 on your keyboard (default for everyone) for taking a screenshot in the Steam platform. After that, a popup option will be shown on your screen right side which is called Screenshot manager option.
Everything you can do with screenshot Manager likes share screenshots don't need to exit from the program. Taking allow screenshots and manage all of them easily. This Screenshot manager cames as a new version or addition of the Steam gaming platform.
Auto storage
You have an option to change as private to keep hide screenshot. No one can see after the change, so it's very nice to which you have to do. When you take any screenshot, they sorted into a different folder for each game. One more option you have, also as save in your pc or share on The Steam Community just single click.
Read More: Divinity Original sin 2 Console Commands
If you want to use Screenshot manager to view the Screenshot. Then you will click on View then click Screenshots which is a top left corner on your screen.
After that, a pop-up Dashboard open with steam screenshot manager. Giving you the option to allow access the Screenshots stored from Software or show in Local pc folder after click Show On Disk option.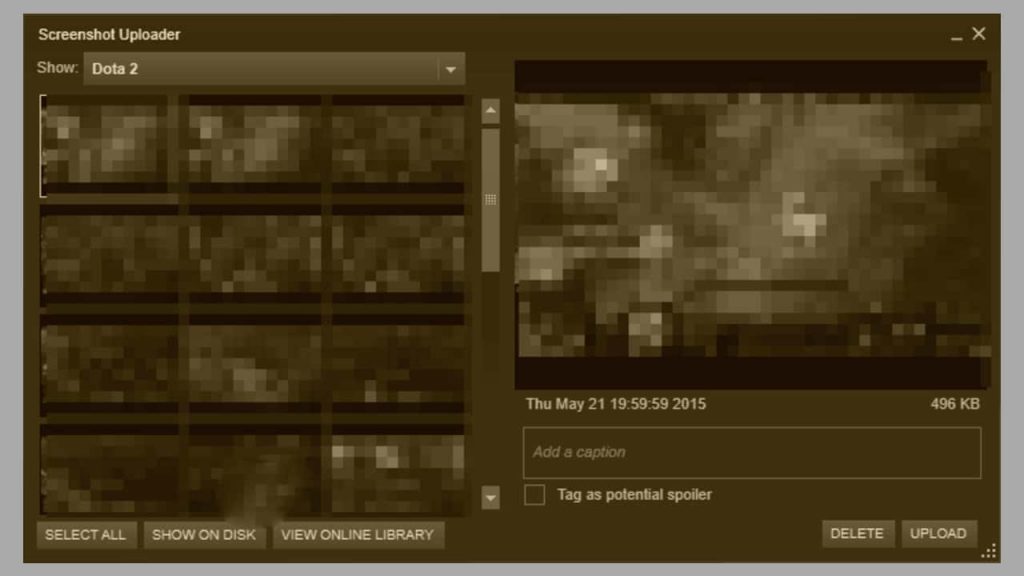 How can you change the Steam screenshot folder?
At first, you have to delete The Default remote folder in your system. The location of the folder is C:\Program Files (x86)\Steam\userdata
After found user data default folder simply delete that. Next, open cmd (Command Prompt) and type some code to change the folder path.
Press window key then type cmd in your search section, then select cmd and Press enter key to open cmd (Command Prompt).
Just simply type this commend step wayes to changer successfully Steam screen folder path, Command starts below the bolt latters.
mklink /D
"C:\Program Files (x86)\Steam\userdata\AccountID\760\remote"
"path_to_custom_screenshot_folder".
How to Download Screenshots form Steam?
In these steps, all screenshots captured easily locally access on Steam. Now you have to do open your screenshot manager, click view which is top left corner then select screenshots option, we are discussed above in this article.
Now after open Screenshot manager, and choose your screenshot from Steam screenshot folder, every screenshot saves different folders with the name of each game. So it's easy to access or find any single screenshot with their game's folder.
Here you have the option to choose the specific folder which is needed to access locally. Next, select the Show on Disk option Button on Screenshot Manager.
Here means this article we are trying to explore in Steam screenshot folder the best way or methods to make create and get access and manage every screenshot. Took playing your Steam favorite games.
Bottom Line
Everyone well knows that every game is creative in nature and makes aggressive to gammer. The Steam Screenshot folder facility is remembered their gaming days and strong art-filled
And also helping to get prized for their games of cupboards for all time.
Feel free to ask any question-related Steam screenshot folder or if you facing any problems to find out your folder Please tell us to comment section.