Windows Audio Device Graph Isolation some time taking or using a lot of memory or Disk space and CPU. In this article, we are talking about windows audio device graph isolation problems and solutions to fix your issues. Check Task Manager for CPU memory, disk report.
Windows audio device graph isolation
Sometimes this process showing as audioDG.exe file. Sound enhancement controls it. For your kind information, AudioDG.exe is home and windows official part of windows.
Sound enhancement Process with a sound card which can add sound features and a fancy system with their sound drivers. Within Windows gives advance audio effects, which make its too helpful and good experience.
How to fix the problems or issue?
High CPU usage issue "windows audio device graph isolation" most of the time its effected for sound enhancement, don't worry just follow simple 4 way for the fix.
Here we are showing 4 best methods for fix your issue, Remember, you don't have to try every method. Try one by one if your problems do not solve or fix. Because we are don't know where your issue coming. We believe these methods help you.
Pc Full Virus Scan
Update your old Audio Driver
All Sound Effects Disable
Uninstall then Reinstall Skype
PC Full Virus Scan
Its low changes to effect virus, after a scan you can see an issue coming from virus or not. For that, you have to Run Full virus scan (if you have installed antivirus) on your pc.
As a Default AudioDG.exe saved in "C:\Windows\System32" and "C:\Windows\System64". So after scan the file location you have to know the virus has or not.
Open Task Manager by press Ctrl + Delete+ Alt and select windows audio device graph isolation and right-click for open a short menu after that click Open file location option.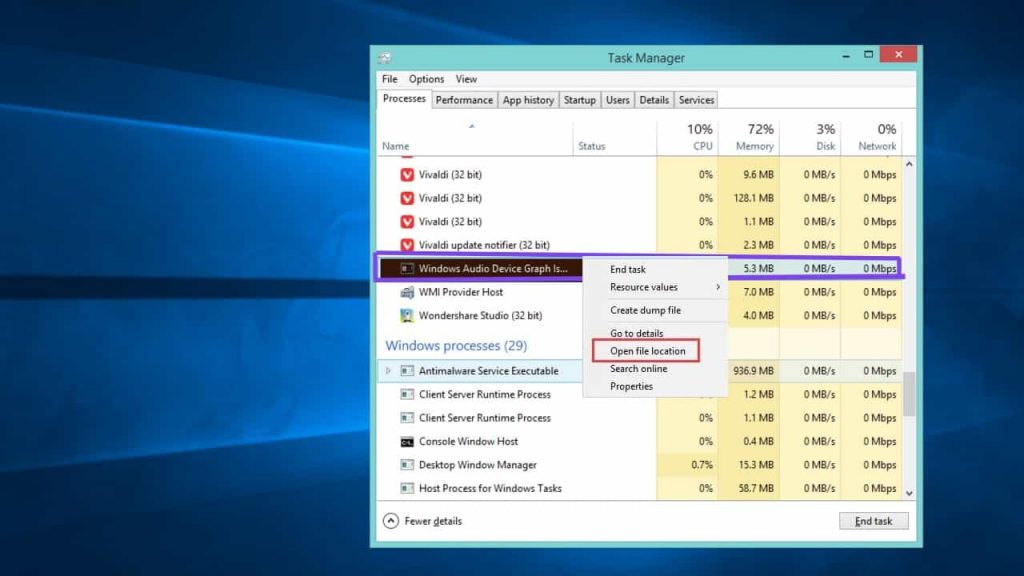 After open File location checks out the address, if the address is "C:\Windows\System32" and "C:\Windows\System64" that's means is it not any virus.
Update your old Audio Driver (If update available)
When this problems coming for audio Driver then you have easy step to fix. Just you need to update the audio driver.
You have to a different option for update Audio driver manual method or Automatical method. We are showing 2 methods use as your preferences.
Manual Audio Driver Update
After going your Manufacturer's website you can update manually, on their website the searching latest version of the driver for your windows variant and sound card. Download and install the new version and delete the old version.
Automatic Audio Driver Update
Now let's talk about Automatic update If you don't have patience or time or Computer skills for manually update your dirver then you have to go this way. This process driver will recognize automatically your system and find the latest audio driver for your system.